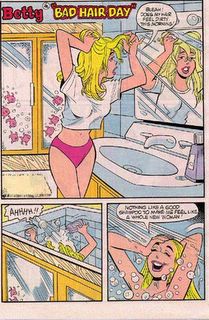 Copyright Archie Comic Publications (ISSN 10591907)

Our son reads Archie comics like they're going out of style. I have to attribute his desire to read to Archie Comics.
I happened to pick up the September 2005 issue and thumb through it. I was, shall we say, impressed by the shape that Betty is in. I showed my husband this page and commented upon what excellent shape Betty is in after all these years, and how very odd it is that Betty appears to be in
exactly
the same shape as she was when I was reading Archie comics 1968 when I was nine.
My husband replied "Well obviously Betty takes very good care of herself."
Yeah, right! Bwa-hahaha!